Frost NYC
Urban-Culture Inspired Fine Jewelry

Frost NYC is an urban jewelry shop that started 30 years ago as a jewelry provider of one-of-a-kind street style jewelry pieces. They custom made orders according to their clients' tastes and preferences. Some of their products are earrings, bracelets, necklaces, rings and watches made with platinum, 14-karat gold and 18-karat gold. Aside from these, they also sell Rolex watches.
At Frost NYC, interested customers can finance up to $5000 worth of jewelry products. This is possible with Acima financing's lease-to-own program. Under this program, a customer can lease any gold or diamond jewelry on Frost Nyc's shop and pay them over time. The customer needs only to pay an initial $70 at checkout. They also offer a 90-day early purchase option. Once a customer is approved, a representative of Frost NYC will contact you.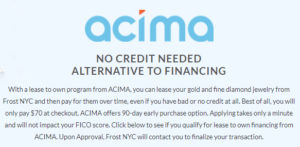 If you'd like a layaway option, add items to cart, then Click "Purchase With Layaway" in your cart for the Partial.ly option.  You will then receive your items after they are paid off.
Frost NYC also accepts Affirm, PayPal Credit, Apple Pay, Amazon Pay, debit and/or credit cards.
New Stores
Recently Added