What Exactly Does "Buy Now, Pay Later" mean?
 BNPL is about to become your favorite 4 letter word
You're shopping, and you see the iPad you've been dreaming of buying for months now. But wait, 3 more left? In a panic, you reach for your wallet, frantically flipping through your endless cards. You think to yourself, "Why am I keeping that old gym membership card that I canceled 5 years ago?" as you figure out how you're going to pay. You don't want to use your credit card for something this expensive, but paying everything upfront isn't ideal either. Then you remember scrolling online and seeing #BNPL, standing for Buy Now Pay Later.

So you wonder, is it too good to be true? Nope. It's a real thing. And in this article, we're answering all of your burning questions, so you can enjoy the finer things in life while spreading out payments to coincide with when you're paid from your job.

Why Shoppers Love Buy Now Pay Later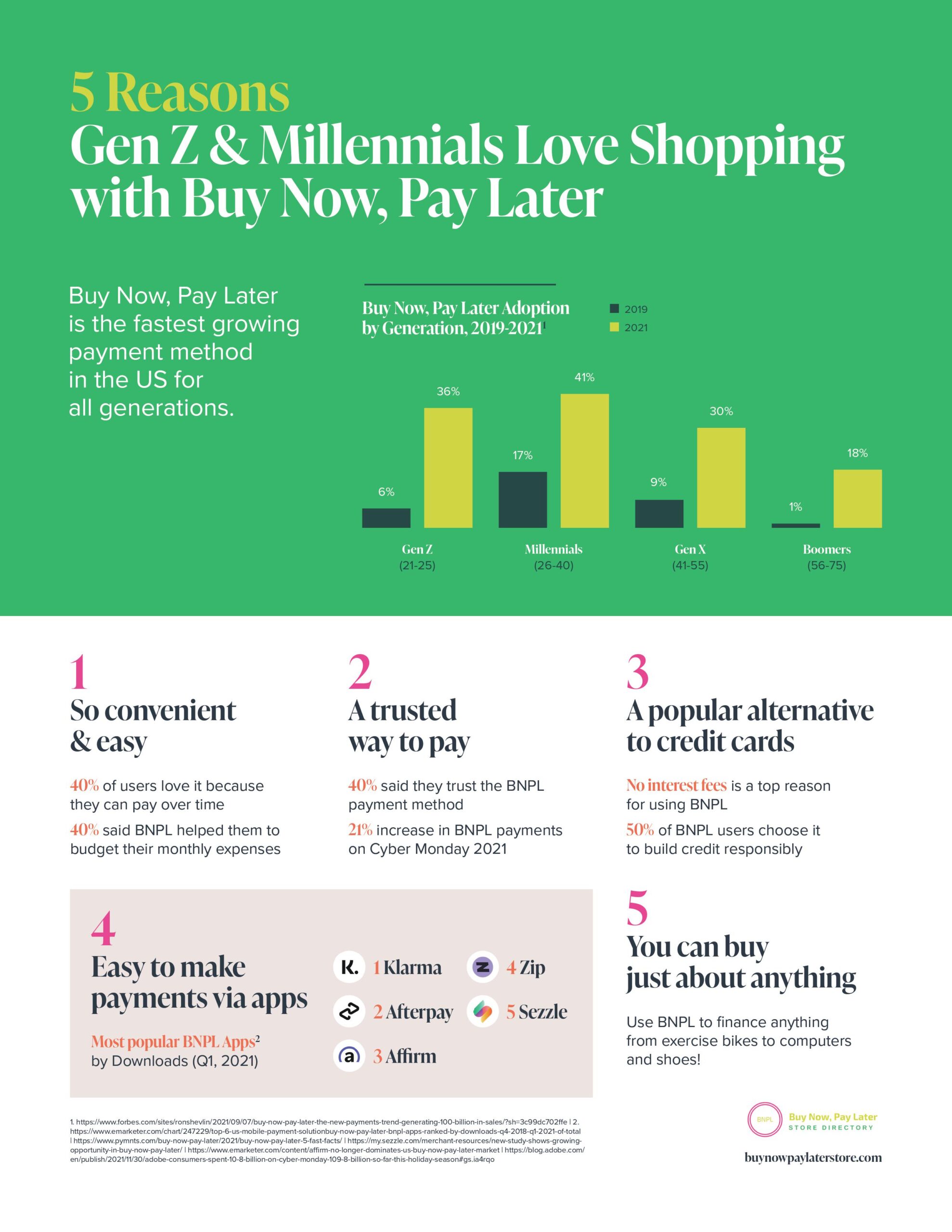 What is Buy Now Pay Later (BNPL)?

BNPL is a flexible financing option that allows you to pay multiple installments for an item instead of everything upfront. Instead of one big "Yikes" payment, it's usually 3-4 smaller payments to ease a high ticket item's burden. And they're interest-free, so you can relax knowing that you're still paying the same amount.

Let's see this in action. Say you buy a $100 sweater. You would pay $25 with your debit card when you buy it, then 3 more installments of $25 in the next month or two (depending on the agreement).
Is BNPL the same thing as Layaway?


Nope. Although there is some overlap. When you choose to purchase something on layaway, you don't get the item until it's fully paid for. With BNPL, you're walking out the door with that cozy sweater as soon as you pay that first installment.
What are some BNPL companies?

Some notable companies are Klarna, Affirm, Afterpay, QuadPay, Sezzle, FuturePay, Splitit, and Paypal Pay in Four. When you're on an e-commerce site that offers this option, you may see the price, then directly below "or 4 payments with Afterpay" when you click on an item.
What can I buy using BNPL installment payments?

Pretty much anything! There are thousands of online retailers embracing this new way of paying, including Macy's and Etsy. BNPL is helpful when you're looking to purchase luxury furniture or some sneakers. Big or small, every purchase can be made easier with BNPL.

What does it cost to use BNPL financing?

If you pay all of your installments on time, there are no additional costs. If you don't, there could be some pesky late fees. Make sure you read the Terms & Conditions before agreeing to any program. It's important that you ensure you'll have enough money in your account when the next installment rolls around.

Can I sign up for multiple BNPL sites?
Yep, there is no exclusivity. You're a free bird to roam around multiple providers. BUT each one will give you a small limit to start with, then allow you to build up your credit limit as you prove you're a reliable buyer. There's also the issue of tracking. Make sure you're managing due dates and payments when using BNPL, especially if you're spread out among multiple providers.

Do BNPL websites charge late fees?


If installments are automatic, this usually isn't a concern. If that installment cannot be collected due to a lack of funds, then yes, you'll be charged. As an example, Klarna will charge you up to $7 if you're late. Nothing through the roof, but definitely something to be mindful of.

Why should I use BNPL instead of a credit card? 
If you can't pay off your credit card, you might face high-interest rates, which are not fun. Also, credit cards come with annual fees and the need for additional budgeting. You can save yourself many headaches by using BNPL and simply tracking how much you need for each installment.

Does using BNPL affect my credit score? 
To be accepted into a BNPL agreement, companies will do a soft credit check to approve you. This type of credit check will not show on your credit report like hard checks from other lenders. Therefore this will NOT affect your credit score. If you pay your installments on time, you have nothing to worry about.

What happens if I can't pay off my installments? 
If you really ghost your payments, some companies will pass your information to a debt collection agency. This could also affect your credit score. Rest easy because this usually is the last line of defense for companies to protect themselves from buyers that truly disappear.

How do these BNPL companies make money?


Multiple ways. First off, there are transaction fees that are paid by the online retailer to use this integrated service. They'll also get income from late fees when buyers don't pay or are late in paying. 
Takeaway
Overall, BNPL is a great way to treat yourself without having to have everything up front. Sometimes when a vacation is on the horizon, you'll need some sunglasses before that next check comes in. With interest-free and predictable payments, BNPL helps you take control of your finances safely and responsibly.

Now you know why #BNPL is always trending. It's the solution to purchasing and staying within your means each month.