Hotter
Comfortable Life Experience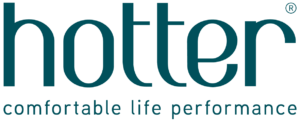 Experts in comfort for every foot
At Hotter we understand that not all feet are created equal so we've blended the very best comfort technology with new designs to bring our customers the fit of their dreams.
Experts in comfort for every foot
There's no such thing as the 'average foot' so we offer four widths and UK whole and half sizes. Our designers inject timeless style into collections of active, casual and deck shoes, as well as boots, sandals and slippers; all brought to life in the latest colour palettes and quality materials.

Unique Comfort Technology
Our Cushion+ technology creates an ultra-lightweight, supremely soft experience by using an OrthoLite® insole and innovative Infinergy® technology. Our Stability+ designs benefit from a balance bar which sits mid-foot, and an OrthoLite® insole, to create excellent lateral support and a brilliantly secure feel.
New Stores
Recently Added