Kinder Beauty Box
Clean Ingredients, For Healthy Skin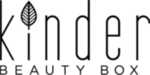 How it works
Select your subscription plan, receive your first monthly box, the 
Kinder Faves
within days, the next month, your box order will process on the 8th and ship around the 15th, shop our curated
Marketplace
often to take advantage of exclusive deals on our favorite products.

Get the Kinder Faves
Collection today!
It's called the "Faves" box for a reason and it's the first box you get when you sign up for a Kinder Beauty subscription! Packed with some of our all-time favorite products and worth more than $117, the Kinder Faves is the perfect introduction to what you can expect with your subscription.
New Stores
Recently Added