Purple Mattress
The World's First Comfort Tech Company Backed by Science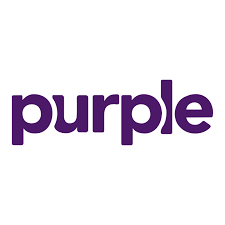 Why Purple? Well, why not? It is an awesome color, and it signifies treating everyone like royalty. The Pearce brothers have spent most of their high-tech careers advancing the world of cushioning. With the Purple® Bed, they put everything into the world's greatest mattress, and they figured out how to do it so everyone can afford it. Now, the brothers focus on creating other great products just as awesome!

A patent-pending machine called Mattress Max™ was created, taking over two years and several million dollars. Now, the Pearce brothers use the Mattress Max™ to make Hyper-Elastic Polymer™ in the USA large enough to fully cover a king-sized mattress, and at production rates and costs that allow them to sell it affordably online. This would help millions of people change their lives. The Purple® Bed would be better than any $4,000 mattress and cost only about $1,000—that was the goal, and Purple achieved it!
They take Affirm, Katapult & Splitit.
New Stores
Recently Added